Do you trust
your team to avoid
phishing attacks?
Get Intelligent Security Awareness in 60 seconds
No technical experience required.
Learn More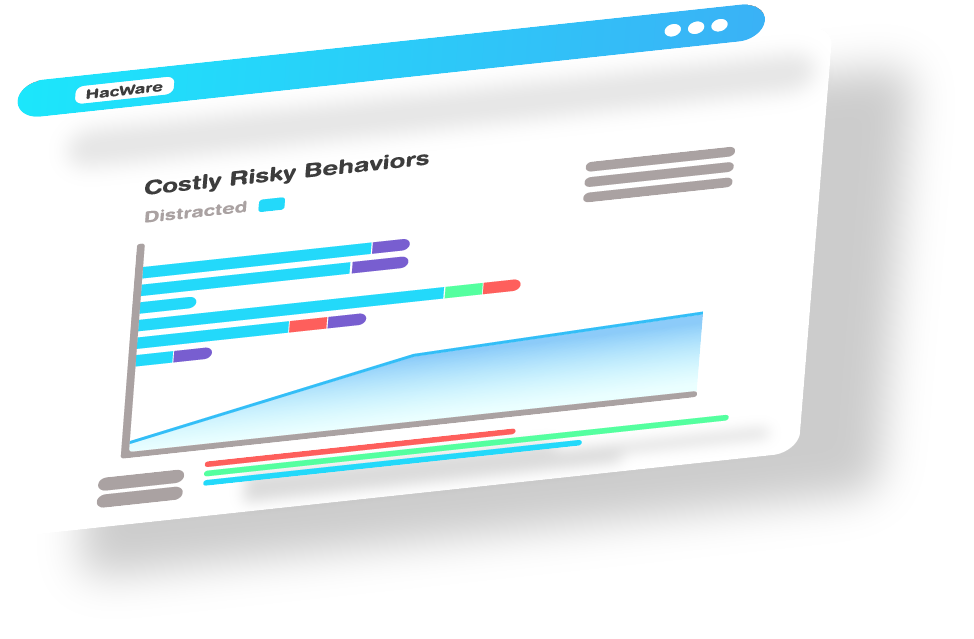 90% of cyberattacks are caused by Phishing
What is Phishing?
Phishing is the fraudulent practice of sending emails under the disguise from a reputable company or known individual in order to induce individuals to reveal personal information, such as passwords and credit card numbers, etc.
Phishing scams are the leading cause of data breaches. The way to stop phishing is through training. HacWare uses A.I and NLP cyber technology help people protect their data and company from phishing.
Learn more
All HacWare needs to get started is
People
Cybersecurity protection happens in layers - Easy integration with everything from the Email client.
Some industries are hacked more than others
HacWare is for everyone. Don't see your industry below? We have a solution for you. Learn more
We got answers to your
questions
Not sure how HacWare can help you? Wonder why you need cybersecurity awareness?
Here are the answers to some of the most common questions we hear from our appreciated community.
Why is Cybersecurity Awareness important?

Cyber attacks have become more frequent because it is easier for cybercriminals to exploit people's natural ability to trust others. 92% of companies have experienced the consequences of a data breach because of uninformed email insecure actions of their employees. The number one way to reduce these cybercrimes from happening is to provide effective cybersecurity awareness training.

What are the 3 top pain points in Information Security?

The top 3 pain points are user behavior, phishing, and cybersecurity staffing. We have built HacWare to address all 3 of these top pain points.

Does A.I. really improve cybersecurity?

Yes. In a 2018 security report conducted by the FBI, they stated that A.I. technology is essential to stopping cybercrime.

Why does HacWare use Language Analysis?

Our unique approach to understanding emotional vulnerability through language provides the highest level of protection. Cybercriminals often use emotion as a tactic to hack.

Is my information protected?

The information collected follows strict data privacy policies. The information is encrypted at rest and in motion. We have many data storage options to meet your company needs.
Protect your company with
HacWare
We are happy to provide more information.
z